Beginning, efforts and influences of unification campaign
Published by: Nuru
Published Date: 20 Jan 2022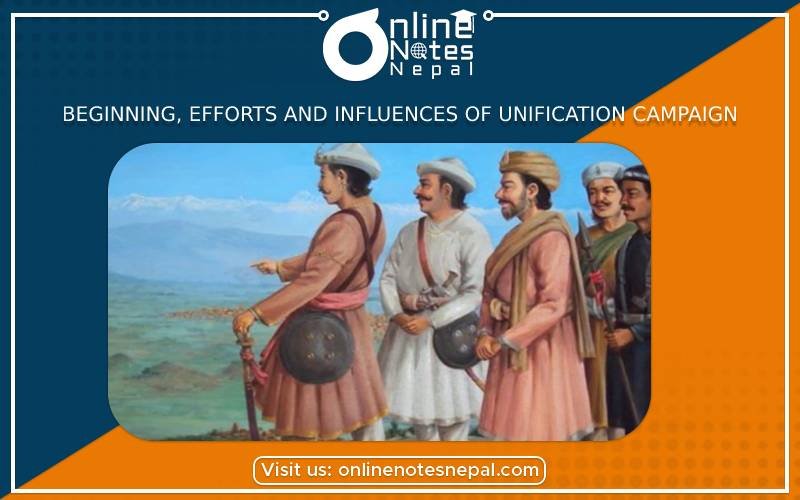 Beginning of Unification of Campaign
Victory over Nuwakot
After tackling all the problems, hindering the way to his success of unification campaign, King Prithivi Narayan Shah got himself engaged in his plan for the second attempt to attack Nuwakot. All the preparation to go ahead with the plans was almost complete. There were plenty of arms, brought from Benares and the army soldiers were trained. Moreover, Prithivi Narayan Shah got the support from Ranjit Malla, the king of Bhaktapur, whom he had enticed to have in return the territories of Sankhu, Changu, Dolakha, Naldum and Mahadev Pokhari, etc. He had also developed good relation with Lamjung a long-time enemy. In order to have good relation with the western states before moving to the east, he sent messengers to Lamjung, Kaski, Tanahun, etc.
Then Prithvi Narayan Shah took 1000 soldiers to Nuwakot disguised as farmers. The force was divided into three groups led by Mahudam Kirti Shah, Kalu Pandey and Prithivi Narayan Shah himself. On 15 Aswin 1801 BS (26 Sep 1744) Nuwakot was attacked from two sides from Dharampani and Gerku Khola and easily captured. Nuwakot was under the care of Jayanta Rana whom Jay Prakash Malla had appointed the chief of the place. Jayanta Rana was at Kathmandu at that time of the attack by the Gorkhali soldiers. He was stabbed to death in the battle by 12-year old Dal Mardan Shah, a brother of Prithvi Narayan Shah. Some time after the victory won over the Nuwakot, the Gorkhali soldiers took over the territory of Belkot as well.
At Belkot Gaynta Rana was traced out and killed inhumanely. Actually, he was peeled alive. Before attacking Nuwakot, Prithvi Narayan Shah had asked him to join the Gorkhali side. In reply, he said, "Of course, I am yours, but I am obliged to Jaya Prakash Malla."
Victory over Nuwakot was long awaited. It was the main western gateway to the Kathmandu valley. The trade route of the valley passed through Nuwakot. It could be an appropriate site for collecting information about the valley. Gorkhali obtained fertile land for cultivating fruits, good grains and green vegetables. They were benefited by obtaining land situated at higher altitude suitable for having forts on it. Moreover, they were ever encouraged for further victory.
First attack on Kirtipur
After capturing the places like Naldum, Mahadev Pokhari, Sankhu, Changu, Dahachowk, Lamidanda, Dolakha etc., adjacent to the valley, the Gorkhali forces march towards Kirtipur for its annexation. On 15 Jestha, 1814 BS (28 may 1757), they attacked Kirtipur. Fully aware of Prithvi Narayan Shah's future plans, the kings of Kantipur, Bhaktapur and Patan mobilized their joint force in the defence of Kirtipur. In the fierce battle, Gorkhali force was badly defeated. More than 400 Gorkhali along with their commander Kalu Pandey were killed. Prithivi Narayan Shah himself had a narrow escape. It was a huge blow to the Gorkhali who had a longing for hasty attacks and instant victories.
Victory over Makawanpur
The Kathmandu valley was the main target of king Prithvi Narayan Shah. He wanted to capture the valley through economic blockade imposed on it, which could not be possible until Makanpur was captured. Since Prithvi Narayan Shah could not establish good terms with Makanpur he was encouraged for vengeful aggression. He had Dig Bandhan Sen's denial of naulakha haar and one toothed elephant as an insult. On 18 Ashwin 1819 BS(4 oOctober1762) the Gorkhali forces led by Mahoddamkirti Shah, Dal Mardan Shah, Dal Jeet Shah and Sur Pratap Shah and reinforced by Bansh Raj Pandey and Kehar Singh Basnet made sudden attack on Makawanpur which was then ruled by King Dig Bandhan Sen, his brother-in-law and prime minister Kanak Singh. Dig Bandhan sen and his family made an escape to Hariharpur gadhi. The Gorkhali force brought that place into their control.
Dig bandhan Sen then sought the help of Mir Kasim, a Muslim ruler of Bengal, who was in a particular upset by English expansion and wanted to extend his territory towards the north. The Gorkhali force led by Bansa raj Pandey and Keshar singh Basnet attacked them suddenly. They were badly defeated. Later the Gorkhali brought bara, parsa, sarlahi, mahottari, dhulikhel etc under their control which could be beneficial for the economic blockade of the valley.
Second attack on kirtipur
Having captured more states surrounding the valley, the gorkhali set up for the second attempt over Kirtipur. On 1 Ashwin 1821 BS(16 September 1764 AD), the force was commanded by Sur Pratap Shah, Daljit shah, and Sriharsha panta. Patan, which controlled Kirtipur which was then ruled by Dalmardhan shah, brother of Prithvi Narayan Shah. Although Bhaktapur and Kantipur also did not come for help, the kirtipuri forces fought bravely and stunned their enemies. Gorkhali had to bear the huge loss of life and property.
Victory over Kirtipur
Having been defeated twice, Prithvi Narayan Shah took new strategies for achieving victory over Kirtipur. The Gorkha forces took more areas including Panga and Chovar under their control. They surrounded Kirtipur from all sides and stopped everything from entering there. The Kirtipuri couldn't even manage to harvest their crops. To worsen the situation water supply was also cut off. This brought a great socio-economic crisis to the state. Ultimately after 6 months long economic blockade, Dhanwantakaji of Kirtipur surrendered in 1823 BS (1767 AD).
Victory over English forces
Having captured Kirtipur, the Gorkha forces were now going to attack Kantipur. King Jayaprakash Malla, having no other way out, sought help from the British East India Company. The economic blockade of the valley had also affected the English trade with the valley and Tibet. Capuchin clergymen in Kathmandu were also scared by the gorkhali advancements. British East India Company sent a letter of threat to Prithivi Narayan Shah to lift the economic blockade when it was not obeyed, they dispatched a large force of about 2400 soldiers under the commandership of captain Kinloch for the help of Jaya Prakash Malla in 1824 BS. Prithvi Narayan Shah who knew all this in advance sent 500 soldiers under the commandership of Bir Bhadra Upadhyaya and Banshu Gurung. Later it was reinforced by another force comprising 700 soldiers led by Bansh Raj Pandey and ShreeHarsha Panta. English forces were attacked in sindhuli and were badly defeated. The gorkhali took hold of 500 guns of the English in this battle.
Victory over Valley
Encouraged by their success at Kirtipur, the Gorkha forces surrounded the Basantapur Palace of Kirtipur from three sides at about midnight on 13th Ashwin 1825 BS (28 Sep 1768 AD). Jaya Prakash Malla along with his people was so busy celebrating the Indra Jatra festival. The attack was sudden. So Kirtipur forces surrendered without resistance. Patan was captured on the 24th of the same month (9 Oct 1768 AD). Jaya Prakash Malla, the king of Kantipur, and Tej Narsingh Malla, the king of Patan went to Bhaktapur for the projection from its king Ranjit Malla. On 1st Mangsir 1826 BS (16 Nov 1769) the Gorkhali force had the victory on Bhaktapur in the battle fought for 3 days.
Victory campaign directed to the west and east
After capturing the Kathmandu valley, King Prithivi Narayan Shah diverted his attention to the Chaubisi states of western Nepal. The Gorkhali forces captured Lamjung, Tanahun, and Kaski but lost humiliatingly when Palpa and Parvat took these three states in their side defended jointly in the Tanahun. Aware of the bad defeat of his force, King Prithivi Narayan Shah abandoned his wishful plan of attacking the western states and made advances to the east. He extended his boundary up to the Mechi River by capturing Chudandi, Vijayapur, and part of Illam. Prithivi Narayan Shah died on 1st Magh 1831 BS before he could make the next attempt in the west. The victory campaigns were further continued by his successors such as Pratap Singh Shah, Rajendra Laxmi, and Bahadur Shah.
Efforts of Unification Campaign
Nepal before unification was divided into many small kingdoms which were fighting in the east known as the Koshi region. While there were Malla Kingdoms in the Kathmandu valley, Kathmandu was known as 'the Nepal Valley'. Similarly, the Gandaki Region was known as the Baise States. Due to different battles among them for annexation, the number of states changed very often.
The states were getting weaker due to the internal rivalry and frequent battles. Tibet and British East Company were expanding their territories. This led, Prithivi Narayan Shah's father, Nara Bhupal Shah, to make efforts for the unification of these bickering kingdoms, but he could achieve very little. King Prithivi Narayan Shah launched a successful campaign for unification.
Prithivi Narayan Shah said:
On reaching Chandragiri, I asked which of the places was Nepal and they showed me one place, calling it Kathmandu, another calling it Bhadgaon and another place calling it Patan. Suddenly an ardent wish to become the king of those townships developed in my mind.
King Prithivi Narayan Shah wrote these lines to reflect his feelings and experiences he fell while reaching the Chandragiri hill on his way back from Makawanpur, the place of his first in-law's house. The wish he expressed in these lines took a form of a campaign for the unification of states, which he launched later.
Political obstacle
It was not an easy task to unify Nepal, divided into Baise, Chaubisi, Sen, and Mall states. The division stood as a big obstacle to the unification campaign. Many of these kingdoms were better off politically and economically. Lamjung, in particular, was a great enemy of Gorkha. In the event of the Gorkha force, marching towards Nuwakot, Lamjung could strike from behind. Prithivi Narayan Shah consulted his maternal uncle, the prince of Palpa on the problem. The letter said in reply, Lamjung in a large vulture, Gorkha, a snake, and Nepal, a frog. Every day the large vulture, then the snake will have the frog to eat. In the course of time, there was an agreement reached between Gorkha and Ripu Mardan Shah, the king of Lamjung through the efforts sought by Kalu Pandey (Banshidhar Pandey). Prithivi Narayan Shah promoted Kalu Pandey to the post of 'kaji', as per the wishes of his caretaker mother Chandraprabhavati and his courtiers although he wanted Biraj Bakheti to hold that post.
Economic obstacle
Gorkha with twelve hundred households was not better off economically as compared to Chaubisi states. The poor economic condition of Gorkha was a handicap to the unification venture for the Prithivi Narayan shah. Being aware that help from Makwanpur, lying in the terai was potential for the unification campaign, he had the nuptial relation with Makwanpur state which was strong politically and economically. But the King of Makwanpur, Hemkara's son (Digbandhana Sen) refused to give him 'Naulakha Haar' a necklace, worn by Indra Kumari, his sister at the time of the wedding and also single-tooth elephant used in the farewell procession. All this was intolerable to Prithivi Narayan Shah and he left behind the bride. He married Narendra Lakshmi, a Kanshi princess afterward. In order to expedite his program of unification, he appealed to his countrymen to cooperate with him with cash and kinds for strengthening the army. The people responded positively.
The first attack on Nuwakot
After his accession to the throne of Gorkha, Prithvi Narayan Shah launched a place of unification venture. Ultimately, the king sent a force, led by a courtier, Vijaya Thapa to Nuwakot for its aggression. He was attracted towards Nuwakot for its crossroad position between Tibet and Kathmandu valley and for avenging his father's defeat at the hand of Nuwakot. Vijaya Thapa was waiting for a favorable time for the attack on his camp by the side of the Trisuli River. In the meantime, King Prithvi Narayan Shah, who grew suspicious of Vijaya Thapa, sent another force, headed by Prakash Malla of Kantipur. Jayanta Rana was a former Sardar of Gorkha and had led the Gorkhali army to Nuwakot When Nara Bhupal Shah had attacked Nuwakot. Since Gurkhas were defeated at that time, He was having protection from Jaya Prakash Malla. But due to various factors such as lack of geographical knowledge and trained soldiers in the attacking force, Prithvi Narayan Shah's aggression on Nuwakot was not a success. Actually, the attack was quite hasty and reckless and followed a heavy loss.
Strengthening of Army
During Prithivi Narayan's time, Gorkha had 8-10 thousand army men, who were capable of fighting in the battle. Defeat at Nuwakot had taught him the lesson. Instead of giving up hope, he began preparations for the next attempt. He bought guns and Muslim repairers from Banaras, along with them extra persons were brought from other places for the repair of arms. However, his emphasis was more on the use of swords than guns. He gave top priority to the army service. He made provisions for the training of youths and the appointment of people of various castes in the army. He brought substantial reformations in the army administrations. In order to encourage countrymen to enter into an army, he made provision of Marawat, a compensation for a soldier's death pad to his family. After the victory achieved in the battle of Kathmandu, he had abundant arms and ammunition which were instrumental for him to be successful in the east in his campaign
Diplomatic relations
Prithvi Narayan Shah was very effective to have good relations with different states for making his unification campaign a success. As a representative of his father, Narbhupal Shah, he had a pact with Lamjung, the old age enemy. Later he himself signed a treaty with King Ripumardan Shah of Lamjung through the efforts sought by Kalu Panday. He also brought Tanahun, Kaski, Palpa in his favor.
Relations with the Malla kingdoms were also important. King Prithvi Narayan Shah signed separate treaties with Kantipur and Bhaktapur in order to develop trade and facilitate his unification campaign.
As per the treaty with Kantipur, the two kings had agreed upon the following terms:
To calculate the currency of either state in both the states
To carry joint trade with Tibet and share the incomes there on an equal basis
To enjoy the right to depute a state representative to Tibet from either state
To allow Kantipur to use the territory of Nuwakot for trade with Tibet
Influences of Unification Campaign
Prithvi Narayan Shah was a truly a patriotic, far-sighted, dynamic and hardworking king who determined to sew different flower of the state into a single garland. He was the only man who has made all the single state into one single country. His determination and courage itself were the matter of high appreciation which is remembered by everyone and his direct participation in the war read lines to learn from failures to for victory. The instances to justify his nature and the mission. To great extent was successful to unify Nepal into one. Therefore, the title of father of modern Nepal seems highly plausible and justifiable All the influence of Unification in Nepal was carried by the Prithvi Narayan Shah.
Prithivi Narayan Shah
His unfulfilled dream to extended the territory were continued by the first daughter in law Rajendra Laxmi and the youngest son bahadur shah. They played the role with high level of honesty and avidity. The boundary of Nepal was extended even to Kumaon Gadwal in the west and extended up to the tista in the east. This is how the unfulfilled of Prithivi Narayan shah was fulfilled and even more extended by them and eventually created a big Nepal
Similar to the history of the creation of Germany form Persia, Italy from Sardinia, etc. the creation, this Morden Nepal emerged from Gorkha and reached different parts of Nepal as it said a journey of thousand miles starts with the first step.
Some possible impacts of Unification camping initiated by Prithivi Narayan Shah to Nepal in are as follow
Consolidation of nation and the nationality
Stoppage of foreign interference as the interference was too expensive when Nepal was divided into small state
Divya updesh introduce by him several as corner stone good governance and social reforms
Treaty of trade and commerce between Nepal and Tibet did in 1832B.S supported significantly for financial progress
Declaration of Kathmandu of Kathmandu as capital city with obviously reduce administrative expenses
People become sovereign and felt there and their participation in the process of governing the nation
During his time, the unity and the nationality seemed strengthened .
Development of co-operation, co-ordination and help among people
Feeling of unity and togetherness developed and bravely exhibited during his rule
These were the notable and noble deed carried out during Prithivi Narayan shah time. Besides these, he was also successful to give new message to the people that the journey with the mission can be one day successfully accomplished despite some challenge on the highway.