Postal Service in Nepal
Published by: BhumiRaj Timalsina
Published Date: 21 Jan 2022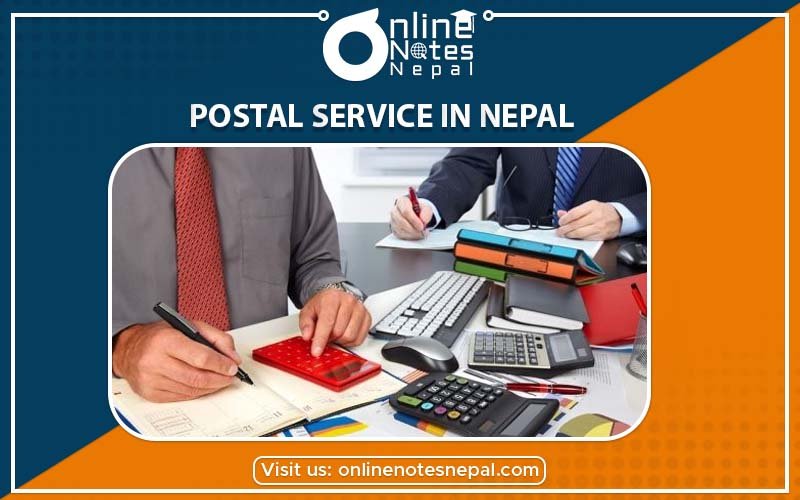 Meaning and Introduction
Postal service has become the intrinsic part of our life. Our daily life is attached with it. An individual and organization cannot think of completing personal, clerical and administrative activities without taking the support of postal service. It is the oldest institutional facility in the field of communication provided by the government. The post office is diversifying its area of operation.
The post office is an institution which involves in carrying and transferring letters, documents, parcels and money relating to individuals and organizations from one place to another place inside or outside the country. It is a governmental institution. The postal service is considered as cheapest, easiest, popular, convenient and reliable means of communication in spite of the developed of other means of communication. It is the process of linking people and organizations of different places by carrying and transferring letters, documents, parcels and money. Postal service is the process of carrying and transferring letters, documents, and parcels, money from one place, office and person to other places, office and person inside or outside through the post office.
Utility and Importance of Postal service
Postal service is the cheapest, easiest, safest and easily accessible means of written communication. It is highly useful means of communication to transfer the message in rural areas of the country where other means of communication are not well developed. The importance of postal service is given below:
Importance to an individual
Postal service is an important means of communication to an individual to communicate private information. A person needs to go to different places for different purposes like business, job and study. He needs to exchange the private information with his family members, relatives, and friends. For exchanging the information from one person to another person, post office plays the role of mediator by providing postal services. It helps to create a great affection between the people of different places. It helps to strength personal relation between the persons. A post office also accepts small saving of an individual through Postal Saving Bank. It provides the loan to the employee of the post office without security.

Importance to the business
Postal service is an important means of communication to communicate business information. A businessman has to write a letter on different business activities like inquiry, reply, order and compliant. For exchanging such business information between the businessmen or offices, post office plays the role of mediator by providing postal services. The branch office needs to report the problems, progress, achievement and suggestions to its head office and the head office requires to circulate different types of information to its branches. The post office helps for remitting money from one place to another place by providing financial service. It plays an inevitable role for the promotion of industry, trade and commerce in the country.

Importance to the organization
The social organization is established to provide different types of social services to the people of the society. It also has to inform about its activities to its branches, sub- branches and members of different areas. The post office plays an important role by providing information about the activities of social organizations with its postal service.

Importance to the government
The government establishes different types of offices in different places for providing services to the people of the country. For maintain uniformity in its services, the government has to give written instruction to its respective offices. Post offices play the role of mediator for transferring written messages from one government office to another by providing postal service. Post offices help to maintain uniformity in the service and help to increase efficiency in the work of government offices.
Development of Postal service in Nepal
During the reign of Prithvi Narayan Shah, an institution was developed called hulak, the present day post office. Thaple hulak was the system developed to carry goods from one place to another. Similarly, Kagaze hulak was developed to carry letters and various documents.
Postal service was formally started in 1932 B.S. during the reign of Surendra Bir Bikram Shah Dev. Postal service got a permanent residence with the construction of Hulak Ghar in 1936 B.S., letters were distributed with seals on them. In 1938 B.S, the first postal stamps of Nepal were released with crown (Shree pech) and crossed khukuri printed in them. Stamps of three different values were released with the same figures on each of them. Those stamps were one ana, two anas and four anas each.
Post offices not only carry letters throughout the Nepal but also to various countries. The Universal Postal Union was established to promote a strong tie among the member nations. Nepal also gets its membership in Aswin, 2013 B.S. Now, Nepal has the postal connection with various countries. Up to 2015 B.S, letters were sent to foreign countries from Nepal with Indian Stamps. But, Nepal started to send letters to foreign countries with its own stamps since 2016 B.S., Baishakh 1. In 2035, Nepal Postal Service crossed its centenary mark and celebrated its centenary anniversary.
By the eighth five-year plan, Nepal had established 3, 660 post offices. In different 33 places of the country, Internal Express Mail Service Centers with various 20 countries International Express Mail Service Centers had been established. It also had started financial service. 85 post offices had started money order system and 10 post offices had got the facility of postal saving banking.
There are 5 Regional Directorates, 70 District Post Offices and 842 Area Post Offices. Along with the increase in the number of post offices, types of stamps also had been increased. Postage stamps ranging from 5paisa to Rs. 25 had been printed that carry the nation's recognition through the pictures reflecting its culture, scenery, literary and different national figures.
Ninth five year plan (2054 - 59) had formulated the following strategic and operating policies:
To develop self- governing administrative infrastructure inside the government sector that is capable of providing professional, competitive and quality service and to maintain the participation of the private sector.
To develop the postal service up to the rural level by improving the service quality and effectiveness of postal service.
To run various financial and commercial services along with money- order and Postal Saving Bank to develop economic self- dependency in postal service.
To emphasize in mechanization along with the promotion of advanced technology to enrich the efficiency of postal service and change and improve the service system according to the need of the time.
In the ninth five year plan (2054- 59), the Postal Service of Nepal achieved the following achievements:
Extra Department Post Office have been established in 800 VDCs. 95 Area Post Office has been established to provide the postal service in the country.
It drafted the legal provision to develop Postal Service as a capable institution in providing professional, competitive and quality service. Ninth five-year plan also operated some programs of enriching some physical infrastructure and enriched its service quality and made money order service effective.
The tenth five- year plan has formulated following strategic and operating policies:
Postal service will be operated as an autonomous department to develop postal service as a reliable, effective and economically prosperous. Institutions operated in the private sector that provide the services of this nature will be regulated and their operations such services will be promoted. E- Post service will be initiated in the postal service sector.
Local level postal service related jobs will be handed over to the local business or bodies.