AI Tools For Students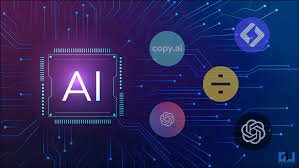 AI Tools For Students
Students today have access to a wide range of technology developments that have the potential to completely change the way they study. The use of artificial intelligence tools in teaching is one such development. The topic of artificial intelligence (AI) is expanding quickly and has many uses across numerous industries. The use of AI tools by students can significantly improve both their academic and personal lives. Numerous advantages, including individualized learning opportunities and effective task management, are provided by these AI-powered tools. This article will help you explore some most useful AI tools for students and their impact on education. Here are some AI tools that students an use:
1. Grammarly
Grammarly is a writing tool operated by AI that assists learners with improving their verbal abilities. It examines for errors in punctuation, grammar, and spelling and recommends fixes. By offering substitute words or phrases, identifying repeated language, and highlighting instances of passive voice, Grammarly can also assist users in developing their writing style. Whether they are students, professionals, or casual writers, everyone wishing to enhance their writing abilities can benefit from using Grammarly. It offers tailored criticism and suggestions for improvement, assisting users in producing written communication that is more comprehensible and efficient.
2. Intelligent Tutoring Systems
Intelligent tutoring systems (ITS) use algorithms made up of AI to give students personalized direction and input. These software programs adjust to various instructional techniques and rates, assisting students in improved comprehending concepts. As 24/7 virtual instructors, ITS are able to assess student performance, detect knowledge gaps, and deliver particular guidance.
3. Grammar checkers and language translation
AI-powered language translation technological advances have made it quicker for learners to triumph over linguistic challenges. Text can be interpreted using these methods from one language to another, benefiting students in comprehending texts written in a different language or interacting with colleagues from varying backgrounds in linguistics. By finding and recommending fixes for grammar, spelling, and punctuation mistakes, AI-based grammar checkers also help students become more effective writers.
4. Virtual Assistants
Virtual assistants powered by AI like Siri, Alexa, and Google Assistant can be beneficial tools for academics. They may carry out basic functions such as establishing reminders or organizing events, in addition to drop off information, schedule reminders, as well as respond to questions. Digital assistants streamline everyday responsibilities ensuring students are able to concentrate more on their education and maintain organization.
5. Automated Grading Systems
These AI-based systems can drastically cut the time and effort involved to grade coursework. These tools assess student work utilizing artificial intelligence algorithms, giving teachers immediate feedback and freeing up their time. Students who obtain timely feedback on their performance as a result of automated grading procedures are better able to identify their areas for growth and improve their learning environment.
6. Adaptive learning platforms
Adaptive learning platforms leverage AI to personalize educational material and assignments based on the preferences as well as requirements of students in particular. To give customized instruction and make certain that every learner obtains training that is appropriate for them, these platforms assess data on individuals' accomplishments and learning patterns. Networks for flexible education promote involvement, flexibility, and self-directed learning, improving overall academic results.
7. Turnitin
Turnitin is a plagiarism detector driven by AI that assists students in making sure their work is original. It examines students' work against a sizable database of printed and internet sources and flags any possible plagiarism. It may spot instances of paraphrasing, copying, and pasting as well as when students turn in their own prior work. Additionally, Turnitin offers feedback on grammatical, spelling, and punctuation mistakes so that students can enhance their writing abilities.
8. Wolfram Alpha
Wolfram Alpha is an artificial intelligence (AI)-powered computerized comprehension processor that can answer accurate queries, solve complicated mathematical queries, and generate incrementally solutions to issues.
9. Duolingo
Duolingo is a gamified, AI-powered language-learning software designed to help students as they acquire an additional language. In accordance with each student's progress and competency level, artificially intelligent algorithms are used to optimize the learning experience. The gamified method of language learning used by Duolingo makes it enjoyable and interesting. As they finish classes and practice activities, users gain experience points and move up levels. The green owl Duo, who serves as the platform's mascot, uplifts users' spirits and inspires them to continue learning.
10. Squirrel AI
Squirrel AI is a platform for AI-powered tutoring that uses adaptive learning algorithms to give students individualized learning opportunities. It delivers customized instruction to assist students meet their learning objectives while also adapting to each student's strengths and shortcomings.
11. Zotero
Using Zotero, students may gather, arrange, and properly cite sources for their research papers. Zotero is an AI-powered research tool. It provides a range of citation formats for various fields and uses machine learning techniques to propose relevant sources depending on the study subjects chosen by students.
The adoption of AI tools by students has broadened educational possibilities and altered the way that students get involved with and absorb information. Personalized educational experiences, efficient scheduling, and enhanced academic success are all provided by these tools. Students are able to benefit from intelligent coaching, language translation, virtual assistants, automatic grading, adaptive learning, and research support by utilizing the power of AI. AI integration in education is likely to improve students' educational experiences and better prepare them for future problems as the technology advances.


Comments